Service:
2006 Outstanding Contribution to ACM Award of the Association for Computing Machinery.
2000 Distinguished Service Award of ACM's Special interest Group on Programming Languages.


I have been very active in the Association for Computing Machinery. and currently serve as on its governing Council. I am a past officer and co-chair its History Committee. I also serve on its Awards Committee, its Audit Committee and its US Public Policy Committee. I have served on its Publications Board, its Special Interest Groups on SIG Board, and have been especially active in SIGPLAN, the SIG on Programming LANguages, which I have chaired.

I formerly served on the Computing Research Board for which I chaired the first Federated Computing Research Conference in 1993.
Copyrights:
The use of copyrights and the necessity of their transfer has attracted much debate in light of the new ``freedom'' of publication on the Web. I chaired a former revision of ACM's copyright policy , and from that exercise I developed a personal perspective on the issue.
The copyright on a scholarly work is a device that is vital to the life of the work for two reasons. First, it is the only effective defense against misuse, as three stories [1995, 1999 and 2007--here!] and a couple of policies demonstrate. It is especially effective if responsibly managed. Second, a scholarly work may live long, and it is important that its life-plus-70-years copyright be held by a legal person who will be around to see that it is used well forever: readily accessible to students, but never distorted.
For these reasons, I think it is wrong for the author to retain copyright; an author-as-scholar should yield control of the fixed, published version to an agent of the community; this is a price of scholarly publication. Few universities or corporations have managers who will handle aging copyrights well; where they exist they are called ``Publishers'' and they work for a ``Press.'' The best holder of a copyright---on behalf of a community of scholars---is a scholarly or professional society, governed by colleagues of future generations. They will detect plagiarism, they can encourage and initiate pro-bono reuse, and they will notice requests from mercenaries. Most importantly in our field, they will attend to migration into new publishing technologies.
Some folks worry about the financial value inherent in copyrights. Copyrights on papers are worth little one-by-one, but they become quite valuable in an amalgamation. Again, I prefer to see such a collection governed by readers/colleagues elected from the computing community (with profits---if any---returned to that community), rather than by commercial management.

Hobbies:
My musical instrument is the bagpipes, but I rarely play these days.
I own the first decent bicycle in this department, but I rarely ride these days.
I like to watch trains and planes.
Education and Affiliations:
Students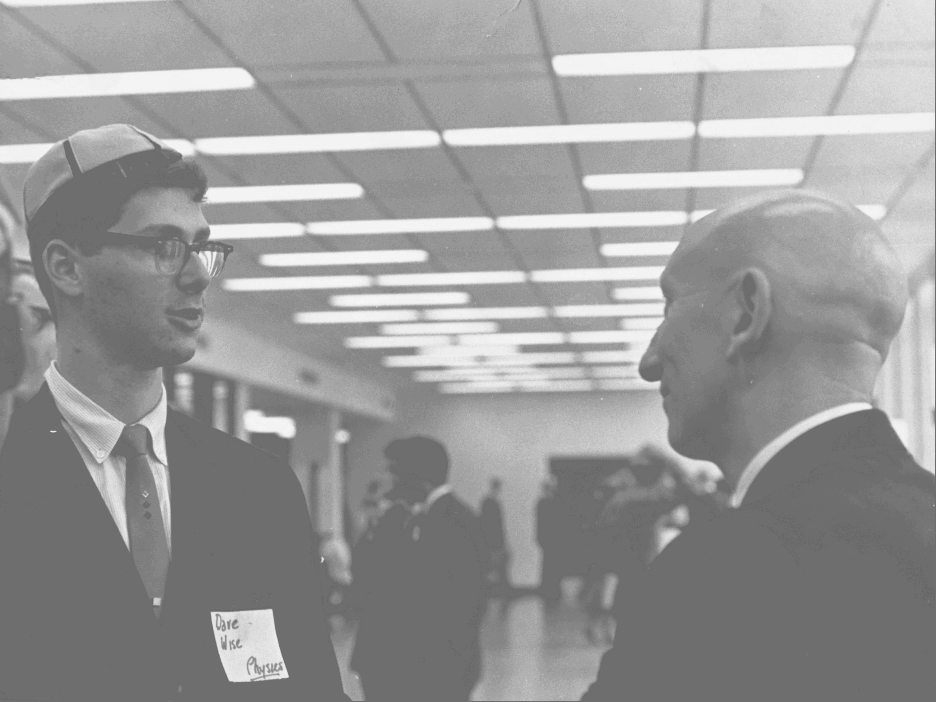 Students are important people---a fact that most of us know first-hand. Here is a photograph of me as an 18-year-old freshman meeting quite a fascinating fellow at my freshman orientation---my first day as an undergrad, indicated by the ``dink'' I am wearing. Learning that this Head of the Math Department uses computers, I am probably telling about my early IBM experience; he listens gently. Eighteen years later I was honored to serve on the faculty of a NATO summer school with him.

Web page © 2005,2010 Trustees of Indiana University